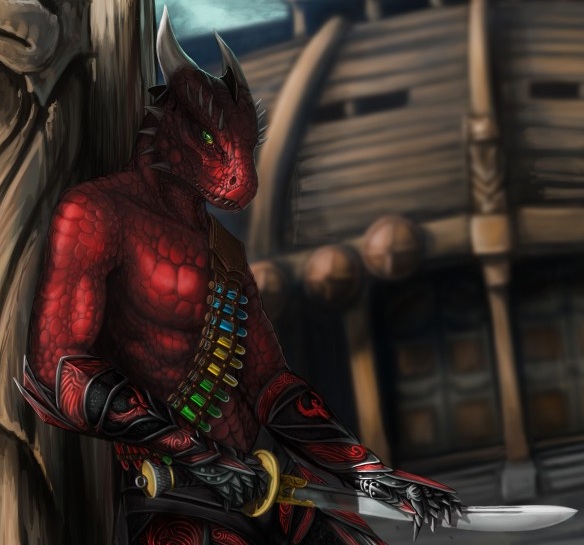 ┏━━━━━━━━━┓
Who I am
『Eireson sol (air-sun sol), Freelanser and Mersenary, at your serivise, or perhapss not, only time and money will tell.』
I long for home
『i traveled as far as black-wood to the demons Dunes of this forsaken Desert, anything else i rather not speak of unless required.』
Time ticks on
『old enough to teach the young how to live and a man a thing or three...』
Upon my birth
『yess i am a male, why iss it you assk, hmm?』
Lineage demanding respect
『i am an argonian, yes, but the blood of a demon runs strong through my veins.』
The bond that ties me
『i have no interesst in femaless, but i doessn't hurt to sshow them courtessy and flattery every now and then...』
┗━━━━━━━━━┛
┏━━━━━━━━━┓
Aim for the skies
『what iss with these accurssed quesstionss of yourss, eh?』
Tread with grace
『i feel as if you are profiling me, thiss i do not like, why doess one need to know thesse detailss?』
That glint in your eye
『my eyess are green, do you not see?』
a hide of stone
『my scaless are crimsson red with the blood of my enemyss, a warning to foolss like your sself who cross my blade and clawss.』
A gift for me?
『Currency of any kind.
something worth its weight in gold
the smell of Fresh Splattered Blood
the Sight of Bright Crimson Red Blood』
You want to die?
『Stupid Fools.
90% of the Human Kind.
Blood hounds on his tail.』
Within this shell
『hes greedy, blood thirsty, boastful and merciless preferring to just execute a target the moment he gets the chance instead of talking with the slight off chance of mocking someone by asking them if he can execute them and is more then happy to boast about it later in thorough details, but what he loves more then killing is money, for the right price he can be bought to do just about almost anything, with lips sealed shut so tight even his own secrets are never whispered again, but when it comes to the ladys, human or not he cant help but show them courtesy and flattery if he can.』
An open book
『Eireson likes money more then he hates human beings, for the right price he can be bought by just about anyone, even if its a human, hes blood thirsty and and smart, always seeing a job through no matter the deed even if it means he has to turn tail and retreat at first, he likes a good drink as long as its strong and not some back alley pisswater humans usually drink and loves a good killing even better if its a job that he can boast about later on, every job hes been on is never spoken of exactly and usually his boasts are about someone hes killed, hailing from the marsh and born under the shadow, Eire was a potential shadowscale candidate how ever he wasn't picked because of the Crimson red hue his scales adopted after being exposed to the demonic energy's of Oblivion before his was born.
although he never speaks of it, before he was even born his town was engulfed by an enormous Gateway to a Realm of Oblivion, much like the town very few buildings survived and even fewer people, his mother and the other remaining survivors were held as prisoners, treated as living cattle for what ever purpose they would eventually serve, some time passed before a raid teams arrived through the gate way, four teams to assault the keep and close the gate, the other three would look for anyone who might have survived, although the survivors were saved they were too late to for some and other had already been exposed to the horrible soul rending experiments, his mother one of the afflicted and the afflicted curse passing onto him upon his birth.
while growing up, Eire had it hard because of his uncontrollable curse and twisted luck, a magnet for all things bad and evil, the brother hood smiled upon him and became a family but even then his curse still ran wild, they would train him in the sanctuary in secret forging him into a kind of weapon but only so much could be done to control his powers, which became closer to the arcane kind, they granted him freedom where he sought out magic schools and arcane masters across the land, always with one brother or sister keeping an eye on him from the shadows, but not even though who could help did much to teach him, his ability's were limited and many refused to help because of its arcane nature and complexion, Eire was forced to turn to necromancy... but not all would go as planned.
several years later he travels as a mercenary for hire after having been trained by the blackwood company and various other groups and factions like the brother hood, he eventually turned against the Blackwood Company after being paid a heft price to do so and the task surpassing his normal... regulations, all members were soon found dead inside the hall, rooms and floors were lathered in crimson, the unoffical report recorded it as a some kind of Brutal slaughter as bodys had ether exploded or were torn apart and thrown across the rooms, to the point some body's where not recognisable how ever heads were, as Eire travelled and bettered his skills he learned how to use his Cursed magic, controlling the powers he had kept hidden deep with in with each passing day, by day Erie appears normal but in dire crisis he wields his dark power, augmenting his body to its true demonic state, for his argonian blood is corrupted as he was born half demon, and seeks wealth, power and... fame regardless of the title he is given.』
Allow me to assist
『Eire is good with a blade but better at ripping throats with his claws.』
Please help me
『flying, Eireson is unable to fly and doesn't like having his feet off the ground by force, Lightning Storms will reveal a silhouette of his Demon form as lightning strikes cause flashes near by, when in resurrection form, lightning flashes drain the colour of his body leaving him as a black eyeless silhouette until the colour returns as the flash passes』
Get out of the way
Shadow's Resurrection: Curse
Eireson's Curse "Shadow's Resurrection" differs from normal Arcane Magic, not requiring the Drawing of Vis energy's for it In fact only Feeds off life energy's and Blood when Supplemented to his own Essence, because of this Vile nature it has, zones of Potent corrupted magical energy have no effect on him like regular magic users and will in fact cause the opposite effect on Eireson but will reveal the monster inside, by biting into fresh corpses or living body's like a vampire Eire is able to restore his own life blood and strength but also further empowering his Curse by giving into its Corrupted power, by utilizing his cursed blood Eire is able to manipulate the vile energy and flow around himself and augment it into a number of forms, these forms he calls "blood magic", these require him to draw the energy out of his own blood and body and channel it into what ever he is attempting, Curse ability's happen at will or cant be controlled.
『Blood Lust: (blood magic) casting a form of dark magic, Eire gains the ability to track the blood of living beings by altering his vision, seeing blood as a fluorescent orange and everything else in blues.
Tough Hide: (skill) Eireson's Hide provides protection from most blunt weapons and force, like fists, non-spiked clubs ect, through blades, bullets and spikes can still pierce and cut his hide.
when in Resurrection form his Ebony Armour like scales Reflect almost all physical attacks and heat based attacks but is prone to Specific types of Arcane Elements, Especially Pure and Volatile Primal Energys.
Resurrection: (Curse) Unleashing his dark power, Eire becomes the demon with in altering his appearance to a more armoured beast like form, the Edges of the plates along the centre of his ebony black body are highlighted with a crimson red glow.
Enhanced Curse: (Curse) Exposure to Corrupted Vis Energy's can force Eireson into his Resurrection form and even to the point of supercharging his power beyond its limitations, when Enhanced the red glow turns a bright Purple and the eye sockets of his armoured head have a dark purple glow instead of its Void black, his strength and ability's also benefit from this boost, and a purple cloud faintly lingers around his feet, his smell of blood is more potent even sickly to some, Eire is unable to change out of this form until his body is Cleansed or consumes all of the excess energy.
Blood Drain: (Curse) by Biting or Sinking his claws into a fresh body, Eire drains the life essence from its blood of it replenishing his own, healing himself and restoring used magic energy.
Acid Spit: (Skill) for what ever Reason Eire is able to spit acid from his mouth in both forms, its a crimson red in color, often appearing to be regular blood but it sparkles and glistens in light alot more, its also quite potent but slow, eating through iron, glass, dirt and flesh on top of anything between, it can be defeated by 'cooking' it with the heat from fire or anything else just as powerful.
Fade: (Skill) a short range form of teleportation, Eire appears to quickly fade out of existence and fades in somewhere near by.
Hell Fire: (Blood Magic) using his magic, Eire in demon form can summon fire to his claws and body, commanding it as a weapon or to protect himself from other fire based ability's, it smells highly of blood and brimstone due to the Ebony Nature of his Armoured form.
Blood Magic - Harness: (Blood Magic) Eire uses his dark magic to strike down an opponent, commanding  a wide range of attacks by manipulating the blood of his attacker to attack them from the inside, target, victims, bystanders or even his own blood, hardening it like steel or to drown them in liquid form, blood must first be spilt for him to gain control over it or possibly even a body if they are near death.
Blood Combustion: (Blood Magic) commanding a body, weather dead or near death by manipulating the blood inside like a puppet on strings, it violently explodes from the inside out and leaving a mess to serve other means.
Reap: (Skill) Striking with Acidic Claws, Eire burns his claws deep into the flesh of his targets, cauterising inflicted injury's and infecting them slowing down any form of healing process, the acidic tips create a burning sensation as liquids boil in contact, Because he usually give forewarning when first using this Skill, most opponents will be aware of the attack, how ever should his claws land a perfect hit, a severe injury is inflicted compared to a small burning scratch normally inflicted.
Alchemy Tricks: (Skill) Eire has good knowledge of the Alchemy trade, perfecting small potion vials which can be seen strapped across his chest, they expand from paralysis and regular poisons to alchemic smoke bombs and ability strengtheners and weakness.
Twisted Fate: (Curse) for what ever reason any one who comes into contact with Eire and his Aura is prone to a violent death while they are with in the area of influence.
Blood aura: (Aura) Eire smells of blood and his aura is thick with it, his aura also cause's the blood of the weak and frail to boil on the inside making them feel hotter then normal and flustered as they start to sweat, they also receive his curse "Twisted fate" 』
I can remain no longer
『the right prise of money of course』
┗━━━━━━━━━┛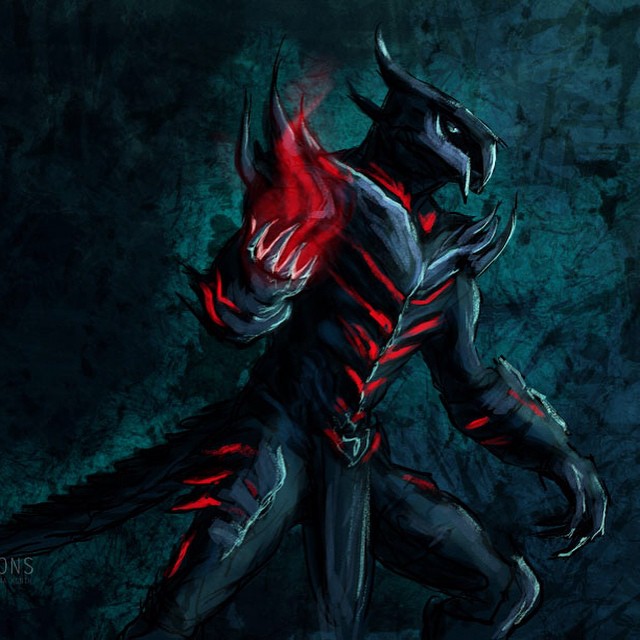 ┏━━━━━━━━━┓
music of Battle
『』
music of Adventure
『』
Torture would be preferable
『i fear nothing that i have seen』
Blood never lies
『family you say? never had any』
What is that?
『Eirs regular attire consists of a pair of Gloves, Boots, Greaves with armor plates running down his tail all made from ebony and decorated in red with markings, he has a leather strap running over his left shoulder with a satchel just behind his back and potion vials slotted into sockets on the front, each vial is a different color and contains a different effect.
his demonic form has the shape of Daedric armor but upon closer inspection its not a suit of armor but his body, taking on a form of mutation when unleashing his dark power called "resurrection".』
As I always say
『for the right prise, perhapss...』
The divinity watching over me
『Dilrax』
┗━━━━━━━━━┛