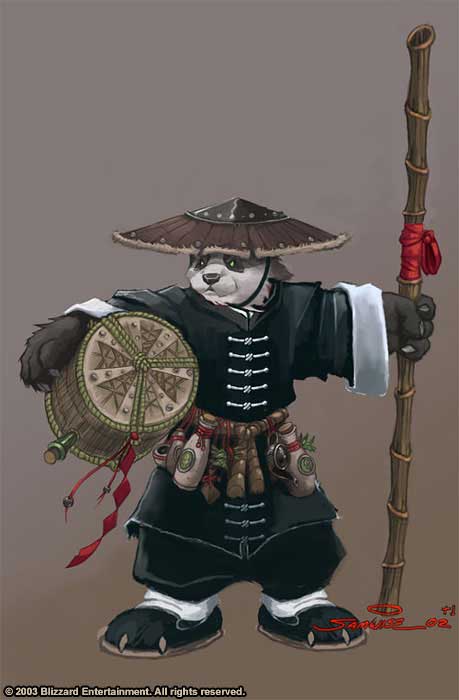 ┏━━━━━━━━━┓
Who I am
『Brew-master "Sandbag" McGee』
I long for home
『Pandaria』
Time ticks on
『What is time?』
Upon my birth
『Male』
Lineage demanding respect
『Pandarian』
┗━━━━━━━━━┛
┏━━━━━━━━━┓
Aim for the skies
『7 feet tall』
Tread with grace
『250 Lbs』
That glint in your eye
『Jade Green』
Rapunzel so fair
『Black and white and all sorts of over the place.』
Within this shell
『Why does this keep happening to me?』
An open book
『Cursed long ago, McGee has no recollection of the fact. His life is always an upheaval of randomness. He has no idea why his life is this way. Why he is different. He sees the world in a way entirely different than anyone else. Now he just wanders around, trying to stay sane in the world that is so full of oddities while serving up his intense alchoholic brew... so intense that it is usually what ends up causing the other oddities that happen to him.』
Allow me to assist
『Causing unknown enjoyment in other... More violent people's lives.』
Please help me
『Make sense of the world.』
Get out of the way
『Violently Unaware: Totally unaware of all forms of violence, even if it is ravaging around him in the middle of a war ground battle field. Unaware to the point that it would look to him like a field full of people screaming at each other and running around, then passing out. Absolutely no concept of it at all, even when people speak about it. Kind of blurs out.
Undying: Cannot die. Ever. Any violence towards him causes random things to happen, if it indeed hits him.
Live by the dice: Unknowingly lives by the whims of a mystical 20 sided dice, which determines how well or poorly most things in his life work out.
Almost Insane: On the verge of insanity because of the inconsistencies of everything that happens around him. He may be conversing with people around, He may be conversing with himself. His thoughts are never personal because he always speaks them in this way.
Curse Unaware: If anyone tries to point out that he may be cursed, he is totally unaware of it. He won't hear them. He won't see them say it. He can't even think about it in any way. As such, he cannot ever get rid of it.
"Sandbag": This is the effect of being "immune" to getting hurt in any way from all forms of violence. He basically becomes a punching bag.』
┗━━━━━━━━━┛
┏━━━━━━━━━┓
As I always say
『What the fuck just happened?
  Do you want a drink?
  Not again....』
The divinity watching over me
『Tartreg』
┗━━━━━━━━━┛